Follow the music and enjoy the atmosphere in your car
Music Voice Control + Remote Control: Sound sensitive function, the color will change according to music rhythm.
LED Stars Atmosphere Lights – Enjoy Your Colorful Life
7colors – Red, blue, green, purple, red + green, red + blue, green + blue, Multi-color full stars neon accent lights for your car floor front & back row.
RF remote control and music voice control, Sound sensitive function, the color will change according to music rhythm:
Colorful cycle – 7 color light sources are continuously cyclically transformed.
Breathing mode – the stars footlights will gradually fade out and become dark, forming a breathing flash mode.
Music self-propelled – the lights flash, in turn, the sound-sensing rhythm flashed, no sound flashes slowly.
Closed light control – the sound sensing rhythm flashes, no sound is not bright.
The Car Interior LED Lights are a set of four strips of LED lights that can be easily installed around your car. These lights are installed with an adhesive strip on the back for a hassle-free easy installation. They can be installed on the underside of your glove compartment or steering wheel, on the sides of your car, on the ceiling, or any other surface!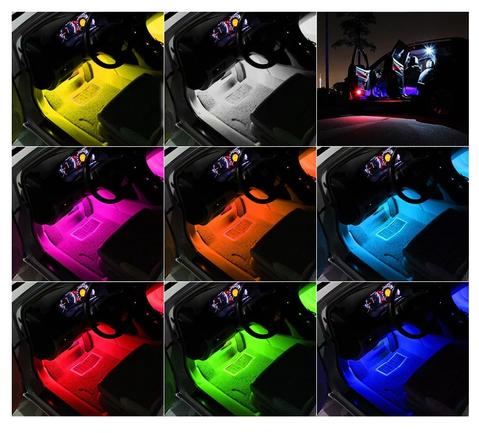 FEATURES
EASY TO INSTALL: The Car Interior LED Lights are very easy to install. They come with an adhesive sticker on the back so that you can install it easily with no damage to your car at all. To install, simply clean the place of installation thoroughly with some alcohol before sticking the lights firmly. With that, you're done!
REMOTE-CONTROLLED: The Car Interior LED Lights to come with remote control for the lights and a control box for the music. With these two devices, you can control the music and the lights from the comfort of your seat. There is no need to toggle with the lights themselves at all!
ATTRACTIVE: The Car Interior LED Lights come in a multitude of colors that is sure to tickle anyone's fancies. The lights come in white, red, blue, green, light blue, orange, yellow, pink, and purple.
CUSTOMIZABLE: Add a touch of your unique personality into your car with these Car Interior LED Lights! Why settle for a boring, old car when you could have a flashy and bright car all for yourself, right?
Shipping to: Worldwide
Delivery: Estimated between 24 days from shipping date
We expect this item to arrive by the estimated delivery date. We also calculate a maximum delivery date in case of delays that are out of our control. With our Money Back Guarantee, we'll give you a full refund if the item isn't delivered by the maximum delivery date.
You can initiate a refund on items delivery or the maximum delivery date if the item hasn't arrived. Learn more in our Shipping FAQ.