Roll over image to zoom in
Click to open expanded view
This bristle and nylon hair brush is quick-drying and easy to clean. The non-slip design rubber handle is convenient to hold. It can massage your head during comb, why not try it?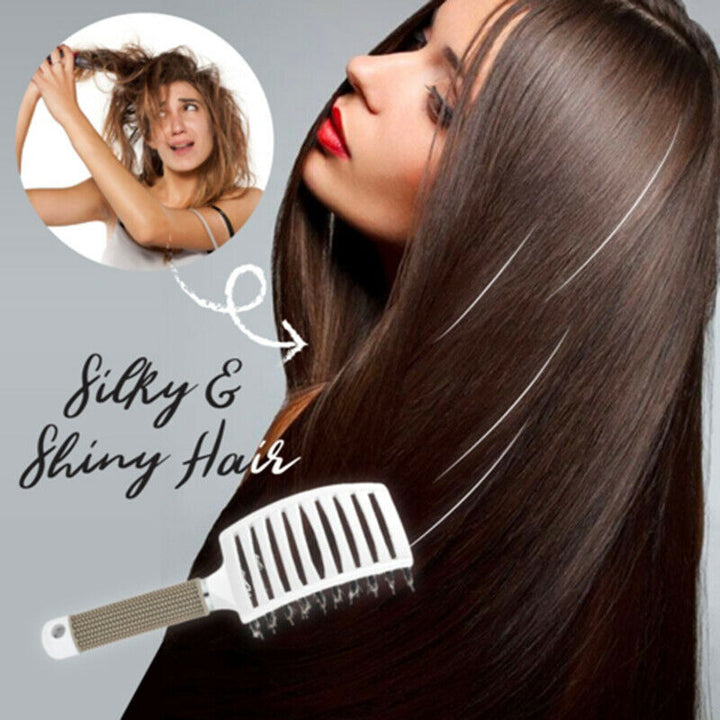 ✔️ Boar Bristles – Natural boar bristles promote healthy hair by stimulation natural oils from the scalp.
✔️ Quick Detangling – The bristles & nylon pins help detangle thick hair and massage the scalp while spreading oils from the root to the tip of your hair.
✔️ Vented For Blow Drying – This boar bristle hairbrush is vented for faster drying with a blow dryer.
✔️ Curved & Oversized Head – This hairbrush has a large head with a curved shape that allows optimum contact points and angles with the scalp while promoting natural hair oil stimulation.
✔️ For All Hair Types – It can be used by men & women regardless of the hair type. Fine hair can take advantage of the boar bristles stimulating natural hair oils for healthier hair, while thicker hair will enjoy the detangling features of this hairbrush.
Specification
Material: Boar Bristle & Nylon
Size: 1.33 x 3.07 x 9.6 inch
Package Include
1 x Bristle Nylon Hairbrush
Shipping to: Worldwide
Delivery: Estimated between 24 days from shipping date
We expect this item to arrive by the estimated delivery date. We also calculate a maximum delivery date in case of delays that are out of our control. With our Money Back Guarantee, we'll give you a full refund if the item isn't delivered by the maximum delivery date.
You can initiate a refund on items delivery or the maximum delivery date if the item hasn't arrived. Learn more in our Shipping FAQ.