-

11

%
Roll over image to zoom in
Click to open expanded view
?

Expand Your Kitchen With This Hook

?
When you are cooking, the tabletop is full and messy. When you finish cooking and want to put down the kitchenware, you find nowhere to put it. So, it's time for Kitchen Rotating Storage Hook to solve your problems. Save desktop space, rotate for storage, easy to take.
Kitchen Rotating Storage Hook is not only suitable for kitchens but also works in
bathrooms, bedrooms, study rooms, studios, etc.
Get yours to make your room tidier.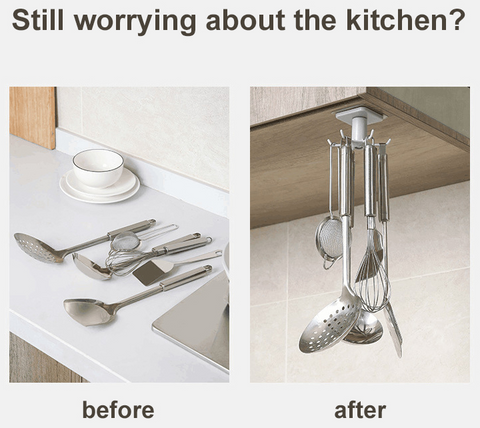 FEATURES:
Perfect solution to save kitchen space:

360-degree rotating hanging hooks great addition to any kitchen, bathroom, bedroom, balcony, almost everywhere. This kitchen utensil rack suitable for various items: spoons, towels, gloves, knives, forks, pans, pots, and keys, etc.

Wide Application on various surfaces: Everything can be hung on it, like wood, tile, ceramic, metal, plastic surface and more (but it has limits on painted or uneven walls),especially it's great for hanging shower or bath accessories in a bathroom or kitchen tools.

Easy to install & Protect the wall:

The rotating kitchen hooks with the rectangular trace-less adhesive can be installed directly on your kitchen wall, you don't need the nail and drill, and the hook won't damage your walls.

Firm & Convenient: The hook has a rectangular, non-marking adhesive, that's why it's not easily peeled. With the 360° freely rotating hook, it's convenient to pick up the kitchen utensils, save more space, organize the supervisor of any possible space.
HOW TO USE: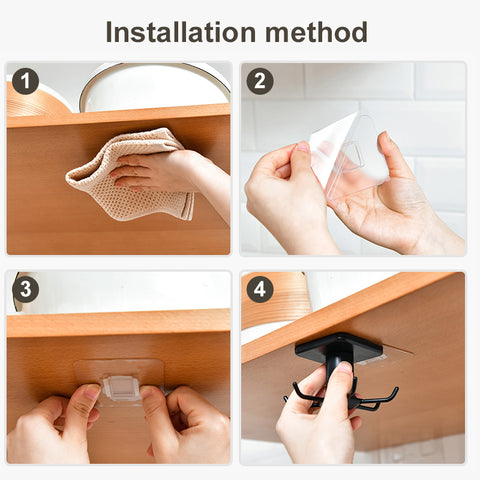 SPECIFICATIONS:
Material: ABS plastic + Seamless adhesive
Color: Black, Pink, Grey, Blue
Weight:

38g

Size: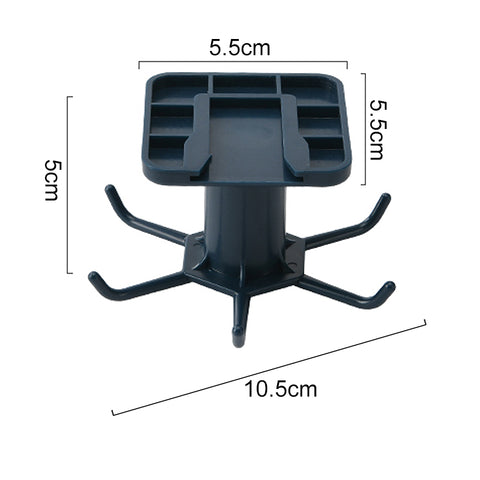 PACKAGE INCLUDES:
2 * Kitchen Rotating Storage Hook

4 * Kitchen Rotating Storage Hook

6 * Kitchen Rotating Storage Hook
Shipping to: Worldwide
Delivery: Estimated between 24 days from shipping date
We expect this item to arrive by the estimated delivery date. We also calculate a maximum delivery date in case of delays that are out of our control. With our Money Back Guarantee, we'll give you a full refund if the item isn't delivered by the maximum delivery date.
You can initiate a refund on items delivery or the maximum delivery date if the item hasn't arrived. Learn more in our Shipping FAQ.