Roll over image to zoom in
Click to open expanded view
Enjoy and relax in the bath with the magnificent BodyCare™ Silicone Shower Brush!!!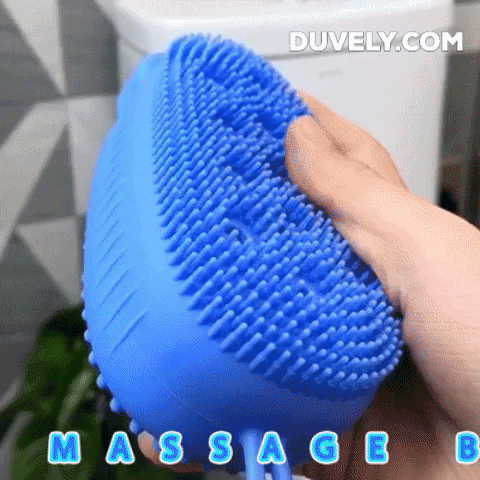 This comfortable brush is really soft and helps remove dirt from the body while keeping skin clean and healthy.
MAIN FEATURES
?  HIGH QUALITY AND DURABILITY 
This BodyCare™ Silicone Shower Brush is made of soft silicone and high quality rubber materials, safe, comfortable, wear resistant and durable. It can effectively remove body dust during bathing or massage, keeping the body clean and tidy.

?  STERILIZATION 
Use this BodyCare™ Silicone Shower Brush to cleanse and scrub, cleanse pores, remove dirt, excess sebum, and dead skin, smooth skin, and greatly reduce bacteria survival.
?  LIGHT AND COMPACT 
The BodyCare™ Silicone Shower Brush suitable for the human body is light and compact, easy to grip and can be massaged or bathed for a long time. The BodyCare™ Silicone Shower Brush is easy to transport and store, and can be placed in a purse or backpack without taking up too much space.
?  EASY TO USE AND CLEAN
Drawstring design makes the BodyCare™ Silicone Shower Brush safe and stable in hand, easier and more convenient to use, suitable for stain removal, particle massage, housework cleaning, automatic foam while scrubbing, easy to clean.

?  SIMPLE OPERATION METHOD 

?  DURABLE
Machine washable and durable. The BodyCare™ Silicone Shower Brush head stretches and can penetrate pores, clean dirt and make it fresh. Our BodyCare™ Silicone Shower Brush can meet your exfoliating needs.

Specs
?  Material: silicone + sponge
?  Weight: 105 grams
?  Color: Pink, Purple, Royal Blue, Mint Green
?  Size: 12cm * 5.5cm * 6.5cm
Shipping to: Worldwide
Delivery: Estimated between 24 days from shipping date
We expect this item to arrive by the estimated delivery date. We also calculate a maximum delivery date in case of delays that are out of our control. With our Money Back Guarantee, we'll give you a full refund if the item isn't delivered by the maximum delivery date.
You can initiate a refund on items delivery or the maximum delivery date if the item hasn't arrived. Learn more in our Shipping FAQ.